It's that easy to create a tax consultant website
With our website builder the construction of an attractive tax consulting website is very easy. Discover now our high-quality design templates and countless features with which you can design your site both aesthetically and functionally perfect. No technical knowledge of web design is required.
Choose a template for your website
Publish the most important data about your office
Loosen up the website with a few pictures
Write about topics, your customers are interessted in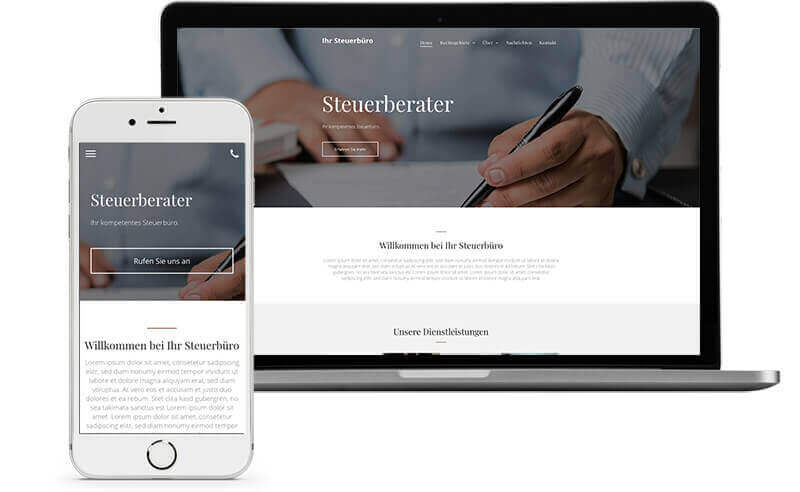 Tax consultant website
Modular systems for creating websites are no longer a new idea. For private websites or also the Internet appearances of smaller associations they are widespread. However, most of these systems are not suitable for professional homepages for numerous reasons. The modular system of checkdomain.de closes this gap. With our website builder you can create your own tax consultant website without programming knowledge, which also fully satisfies the requirements of a tax consulting firm with regard to its seriousness and professionalism.
Industry-specific designs
Potential new clients receive numerous suggestions from Google or another search engine on the search term "tax consultant" and decide in a few seconds which of them they look at more closely. At this point it becomes clear that the design of a website is also part of the message.
The website of a tax consultant differs not only by the contents of a fitness studio or a hairdresser's salon, but also by the fact that it radiates seriousness at first sight. Checkdomain offers numerous industry-specific designs that meet the expectations of the respective target group. These basic designs can be individually adapted with a few mouse clicks. This way you can quickly create your personal website for tax advisors without any previous knowledge.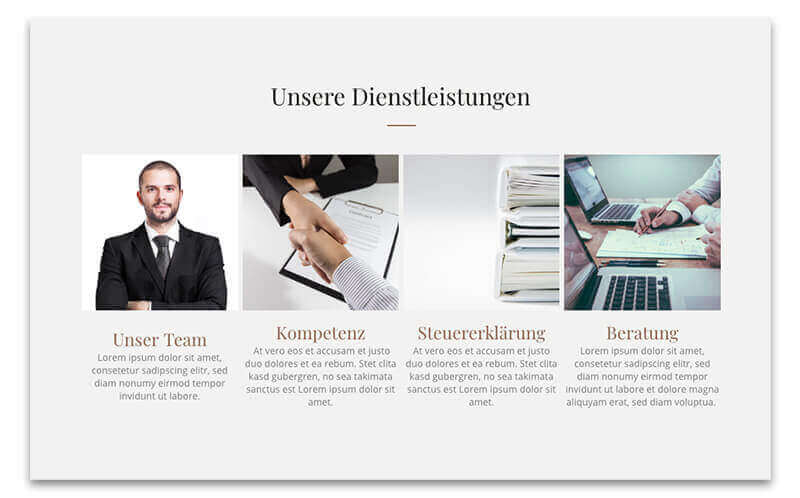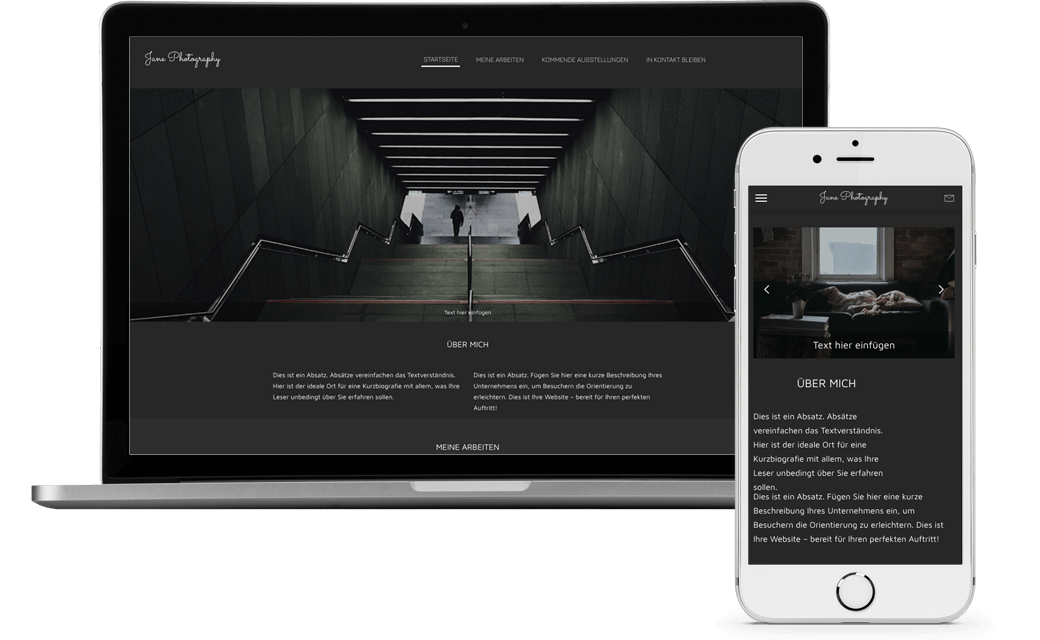 30 Days Money Back Guarantee
Creating your own website without previous knowledge has never been so easy. See for yourself how quickly you can create websites with checkdomain's website builder.
Try out different designs and familiarize yourself with the various functions - if you are not satisfied within the first 30 days, you will get your money back.
Create a tax consultant website
With us you will be found on the web
As already mentioned, the acquisition of new customers via the website usually goes like this: Someone is looking for a tax consultant and enters "tax consultant city name" in Google, for example. If you only appear on the third or fourth page of the hit list, you will hardly be found. So it is important to convince Google's algorithm to propose your website to its users as one of the first. This is done by means of so-called search engine optimization.
Conventional building sets for creating websites leave their users alone with this problem. If you want to be easily found on the net, you have to use the services of a special SEO agency (SEO = Search Engine Optimization). These are not exactly inexpensive and to make matters worse there are not only one-off costs, because search engine optimization is a continuous process. It would be frivolous to promise here that with our website builder you can achieve with just a few clicks what others pay thousands of euros for to highly specialized professionals. But with checkdomain you receive valuable references, how you can fulfill at least the basic requirements of the search machine optimization.
As a tax consultant, you are not in competition with large companies that have a corresponding advertising budget. Your competitors are also more likely to rely on cost-effective solutions for their Internet presence. The integrated search engine optimization of our homepages gives you a decisive advantage over these competitors in the competition for good visibility on the Internet.
With our easy-to-understand SEO tool, you can finally do the search engine optimizations yourself and do not need an expensive agency. Many of the tasks are explained in this video so that you can easily do the presented work yourself on your website.
Test our rankingCoach now
Our tariffs for you
We have something for everyone, whether private homepages, functional company homepages or sales-oriented business websites. With our tariffs you are guaranteed to win
Set-up fee: €0.00
12 months term
30 day money back guarantee
1 Page
Large picture archive with free pictures
Design templates for many industries
Perfect display on all devices
Unlimited storage space
No advertising
1 SSL-Certificate included
recommended by customers 4.7/ 5
Set-up fee: €0.00
12 months term
30 day money back guarantee
15 Pages
Large image archive with free images
Over 100 Premium design templates
Perfect display on all devices
Unlimited storage space
No advertising
1 SSL-Certificate included
Blog included
1 free domain 3
5 E-Mail Mailboxes
5 GB Mail memory
Detailed website statistics
SEO-Optimierungen
Business Apps, Maps, Forms
Set-up fee: €0.00
12 months term
30 day money back guarantee
∞ Pages
Large image archive with free images
Over 100 Premium design templates
Perfect display on all devices
Unlimited storage space
No advertising
1 SSL-Certificate included
Blog included
1 free domain 3
20 E-Mail Mailboxes
20 GB Mail memory
Detailed website statistics
SEO-Optimierungen
Business Apps, Maps, Forms
Multilingual Websites
Device dependent content
1 Prices include 19% VAT (Germany)
2 Minimum term: 12 months, notice period: 30 days
3 You can use the following domain extensions free of charge for the homepage construction kit: de, com, net, org, info, biz, eu, at, ch, li, co.uk, mobi, dk, nl, it
Let us create your professional website for you
You don't have time to create your own website? No problem - With our new website service we create your website for you. Including domain, e-mail addresses and update service. Everything from one source.
Learn more now

Data protection is very important to us
Surely you will want to use your website to handle parts of the communication with your clients. For a tax consultant website this means that occasionally also confidential data must be exchanged.
This includes not only data subject to tax secrecy, but all personal data of your clients. Actually, legal regulations for secure data traffic have been come into effect since 2016. However, some of these are formulated quite vaguely, which is why violations have hardly been punished so far. This will change with the basic data protection regulation of the European Union coming into effect. This clearly states that communication in such cases must be secured using SSL encryption. You will need an SSL certificate, which is included in our professional packages.
If you are not familiar with this topic, don't worry. Ultimately, SSL encryption is just another technology that you don't need to understand in detail to use successfully. Our website builder makes it easy for you to meet the technical requirements of the basic data protection regulation. All you have to do is decide to run your website on one of our servers. We will then install the certificate on the server.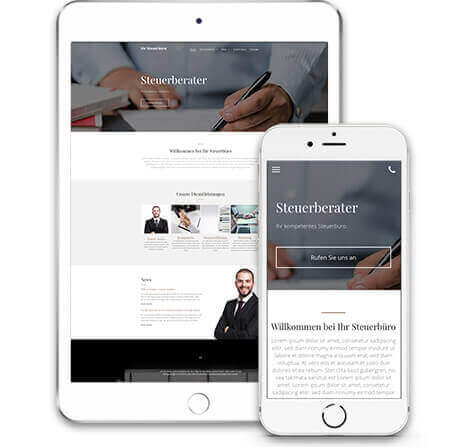 Find the right design for your idea
The perfect design for your website? we have it! Choose from high-quality, responsive design templates, customize the layout and quickly and easily design your professional website.
PC, tablet and smartphone
Today, a website for tax consultants also have to be easily usable on all common end devices. Your clients will not only access the site from their PC, but also from mobile devices. The outdated old solution to this problem today is to create several versions of the website and to determine the type of device when accessing it in order to redirect the user to the correct version. Many old website builders do this - if they are designed for mobile users at all.
Our website builder uses the so-called "Responsive Design", which works perfectly on all end devices. It is not only about the different screen formats, which range from the display of a smartphone to a large PC monitor. The operation of the website is also different, as mobile devices have neither a mouse nor a keyboard. Responsive design is not only the best technical solution, but also the only one that Google accepts. Everything else is classified by Google as "incorrect programming". This leads to these websites being banned somewhere in the depths of the Internet where no user ever gets lost. With the websites of checkdomain you don't have to worry about it, the responsive design is standard with us.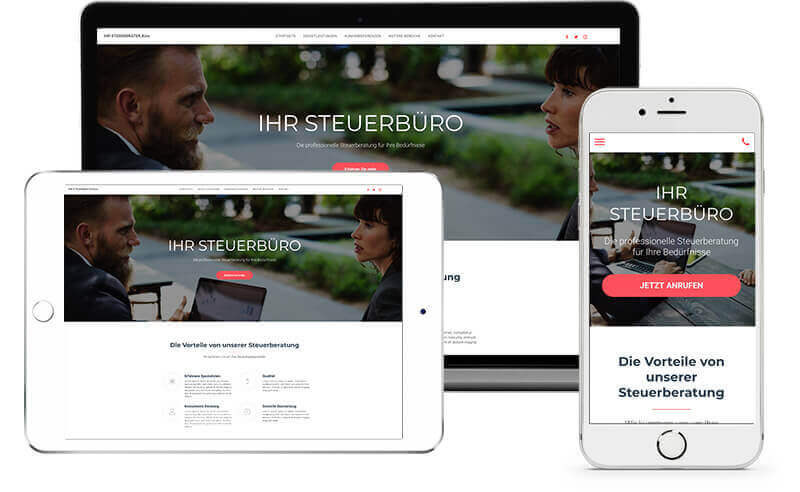 Finally, a few tips
If you create your website with our tax consultant website builder, you can let your creativity run free, because the system is very flexible in this regard. Within certain limits you should also do this, because an individual design increases the recognition value quite considerably.
But you should always keep an eye on the ominous first two to three seconds that play such an important role in web design.
This means the few seconds in which the typical Internet user decides whether to click the page away again immediately. He usually does if he doesn't find what he's looking for right away. For a website for tax consultants, for example, the telephone number and address should be immediately available. If you offer a consultation without prior appointment, this should also be quickly recognizable, combined with information on your opening hours. The names of the links should also be clear and meaningful. One user will be interested in your special fields, the other user will want to know whether you work for private and business customers. Not everything can be found on the home page, but the links to this information should be immediately visible.
You should also test your website in advance by asking friends or acquaintances to find specific information on your site. One of the worst deadly sins in web design is that users end up on a subpage and don't know what to do from there. This almost always leads to the page being closed. These are the kind of errors that you can easily overlook yourself. Because for those who have designed the navigation on a website, everything is always very simple and logical.