It's that easy to create a bakery website
With our website builder the construction of an attractive bakery website is very simple. Discover now our high-quality design templates and countless features with which you can design your site both aesthetically and functionally perfect. No technical knowledge of web design is required.
Choose a template for your website
Publish the most important data about your bakery
Upload the appealing pictures into a picture gallery
Maybe you can also create a food blog about it.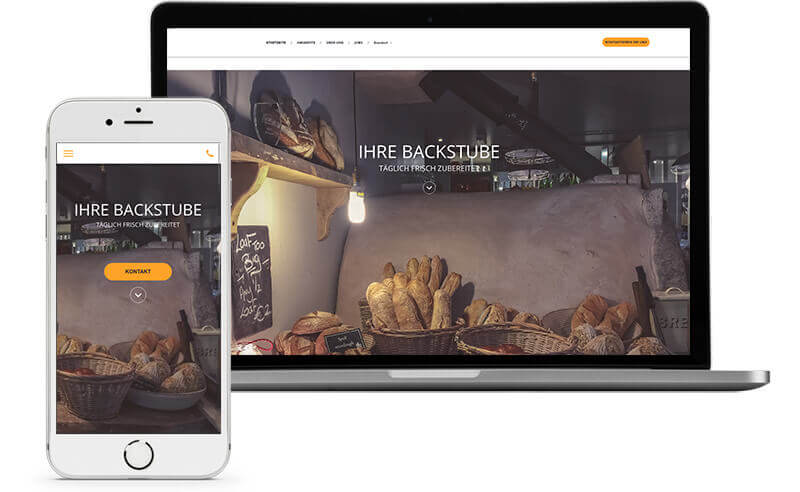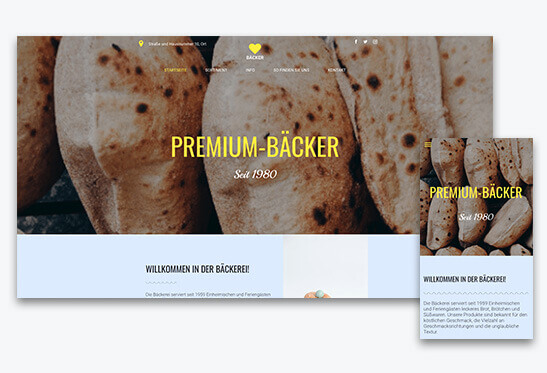 Website for a bakery: Modern online offer
In the modern Internet age, the website of a bakery is a popular online offer. Although we know our personal regular baker a few streets away, we are always happy to look up his opening hours and offers. Should we travel privately or on business, we look for a good baker in the other city and orientate ourselves first in the net. As a baker you can offer your customers a lot of service with your website and distinguish yourself from numerous competitors. Draw attention to yourself with your website: you can quickly expand your customer base without great effort. Newly acquired customers will thank you when they start their day well with their fresh, fragrant baked goods
Create a bakery website
it takes a few steps
At checkdomain you can choose from many layouts for your website. These are completely responsive. This means that your website will adapt to displays and screens according to their size. With modern weaving technology, the website recognizes from which device a user controls it. The display is then adapted to this device. Who looks at your web page at home PC screen, is pleased about large pictures and extensive background information.
If you access your site from your smartphone on the move, you first want to know your opening hours and your location, including directions. Many people use their smartphones in the morning to search for freshly baked rolls for their loved ones. You can support the mobile call with separate contents - first the map with directions. They can also ignore other contents, such as separate long descriptions of gluten-free baked goods. It is sufficient to mention that you lead them. On the PC screen, on the other hand, people enjoy reading such explanations. By the way, checkdomain is built in such a way that you can adapt your layout at any time.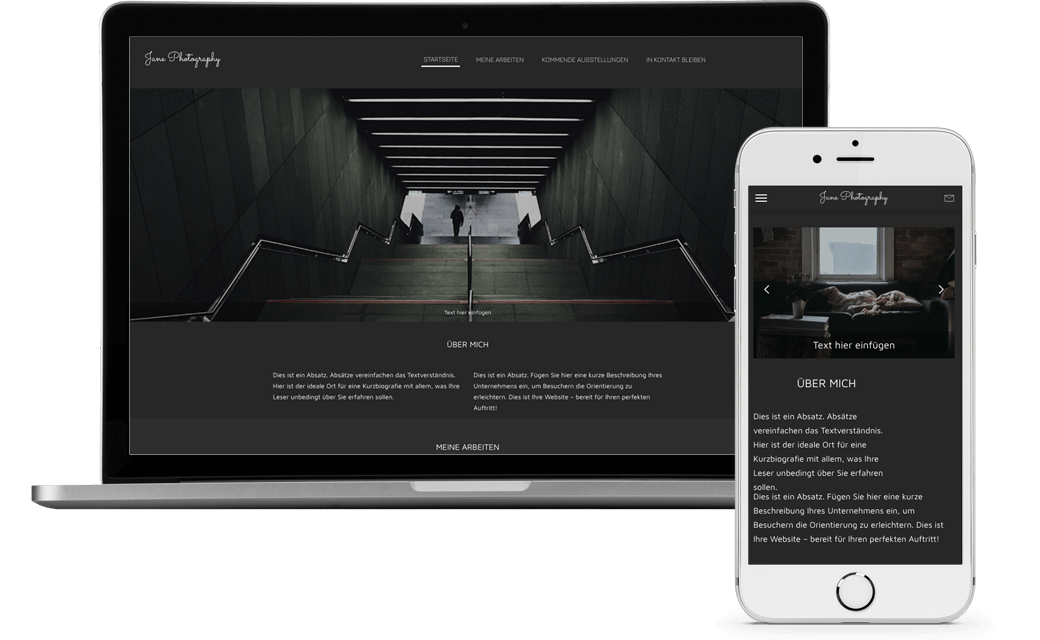 30 Days Money Back Guarantee
Creating your own website without previous knowledge has never been so easy. See for yourself how quickly you can create websites with checkdomain's website builder.
Try out different designs and familiarize yourself with the various functions - if you are not satisfied within the first 30 days, you will get your money back.
Create a bakery website
Create a website for bakery: What content do you need?
Checkdomain provides you with an easy to use CMS. This so-called Content Management System enables you to set, change and delete content via the intuitive user interface without any programming knowledge. It can be pictures, videos and texts. Changing content may be important to you because you are bound to change your listing from time to time. For example, some baked goods are only offered on weekends. There are also special offers and seasonal pastries. You can place all this on your website in a way that meets your expectations. Maybe you sit down with some of the staff and write on a piece of paper what it might look like.
The implementation of your vision is afterwards very simple with the checkdomain website builder. You can see how your website will appear in preview mode. If you are satisfied, you can upload the website. With numerous widgets from checkdomain you can make the website for your bakery even more user-friendly. These widgets can be integrated as easily as texts or images with one click. Examples include:
Picture album: Your customers will certainly enjoy looking at the colorful assortment of a bakery. Just looking at them motivates you to visit your bakery.
SEO functions help you with search engine optimization. Checkdomain can also support you separately in this field. Google and other search engines provide you with a good ranking in the search result lists through such functions.
You can also present your team in a picture gallery. The friendly faces of your sales assistants and bakery staff will give your company a personal appearance that customers like very much. Your employees can be proud to be presented in this way.
A guestbook motivates your customers to leave friendly entries. You can edit these entries and decide what should be included in the guestbook.
Of course, you can and should also integrate Google Maps to mark the location of your bakery. Customers find a route description by car, on foot, by bicycle or public transport very helpful.
Your customers can leave their orders via the contact form. Additionally we recommend further contact possibilities by mail and telephone.
You could also present your current offer with price list. You may also present daily product highlights and special offers such as the daily offer, a breakfast menu or regional products.
You should place the opening hours prominently on the start page. Then the customers look first. They are also very grateful for the information about parking possibilities.
Many bakers offer their customers loyalty cards. This increases customer loyalty and thus sales.
Last but not least, you could refer to open positions in your bakery.
Our tariffs for you
We have something for everyone, whether private homepages, functional company homepages or sales-oriented business websites. With our tariffs you are guaranteed to win
Set-up fee: €0.00
12 months term
30 day money back guarantee
1 Page
Large picture archive with free pictures
Design templates for many industries
Perfect display on all devices
Unlimited storage space
No advertising
1 SSL-Certificate included
recommended by customers 4.7/ 5
Set-up fee: €0.00
12 months term
30 day money back guarantee
15 Pages
Large image archive with free images
Over 100 Premium design templates
Perfect display on all devices
Unlimited storage space
No advertising
1 SSL-Certificate included
Blog included
1 free domain 3
5 E-Mail Mailboxes
5 GB Mail memory
Detailed website statistics
SEO-Optimierungen
Business Apps, Maps, Forms
Set-up fee: €0.00
12 months term
30 day money back guarantee
∞ Pages
Large image archive with free images
Over 100 Premium design templates
Perfect display on all devices
Unlimited storage space
No advertising
1 SSL-Certificate included
Blog included
1 free domain 3
20 E-Mail Mailboxes
20 GB Mail memory
Detailed website statistics
SEO-Optimierungen
Business Apps, Maps, Forms
Multilingual Websites
Device dependent content
1 Prices include 19% VAT (Germany)
2 Minimum term: 12 months, notice period: 30 days
3 You can use the following domain extensions free of charge for the homepage construction kit: de, com, net, org, info, biz, eu, at, ch, li, co.uk, mobi, dk, nl, it
Let us create your professional website for you
You don't have time to create your own website? No problem - With our new website service we create your website for you. Including domain, e-mail addresses and update service. Everything from one source.
Learn more now

Services for the checkdomain website builder
In addition to the numerous design templates that are suitable for practically every industry, the checkdomain website builder offers many other services. You can select free images from a huge image archive, which are offered royalty-free or whose licenses checkdomain has. The use of the pictures is included in the price of the website builder.
You can choose one of three packages, and the benefits continue to increase. Decide for yourself whether you need the premium, the pro or the start variant. Of course you can extend your package at any time. Use the responsive web design in each of the three variants and thus the optimization for all end devices, the forms and apps for your business, the SSL certificate, the domain and the offered e-mail mailboxes with gigantic storage.
Detailed statistics help you to assess how many people access your website daily, weekly and monthly. Among other things, this is important if you want to tackle certain search engine optimization measures and check their success. The website builder offers all services that another provider could offer you, who creates a website for you for very expensive money. You will notice that you can save these costs by using the checkdomain website builder.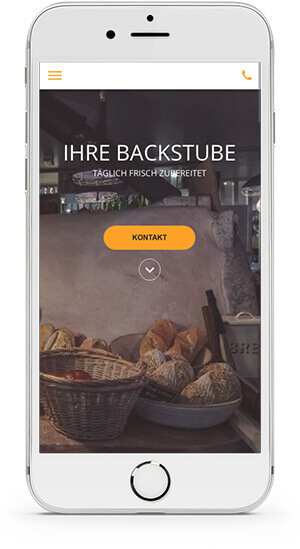 Find the right design for your idea
The perfect design for your website? we have it! Choose from high-quality, responsive design templates, customize the layout and quickly and easily design your professional website.
Create a website for bakery: What happens afterwards?
Checkdomain specializes in domains, hosting and search engine marketing. You can make use of all these services to increase your business success. These services can, for example, begin with the domain check: Which domain is still free for your bakery? This will check checkdomain for you, then you will receive the appropriate domain. It makes sense to integrate the location into the URL, for example "bakery-münchen.de" or even better "bakery-münchen-maxvorstadt.de".
People are looking for a baker in Maxvorstadt and enter "bakery München Maxvorstadt" or "bakery Maxvorstadt München" as search terms, after which they are directed directly to your website. This so-called talking URL is highly rated by Google, which usually gives you a much better ranking in the search results list.
The website also includes hosting, which you also receive from checkdomain. Here it depends on a good and at the same time favorable server performance, so that your website is well attainable at any time. Last but not least, you can commission checkdomain with the search engine marketing. This may include SEO and Search Engine Advertising (SEA) services. The checkdomain support will advise you. So when you create your bakery website, you can then consider which services might still be valuable for you. Start your online business now!