It's that easy to create a fitness website
Whether Aikido, endurance and strength training, dancing or Yoga - more and more people are looking for and finding the right fitness offer for them online. With your own website you meet this need for information and motivation. And increase your level of popularity, the number of your customers or the sale of your products. Being online before the others are - with a modular system from checkdomain, this is one of the easiest exercises for you.
With our fitness blog builder, building an attractive fitness blog or a fitness website is very easy. Discover now our high-quality design templates and countless features with which you can design your site both aesthetically and functionally perfect. No technical knowledge of web design is required.
Choose a template for your website
Publish the most important data to your fitness website
Upload the most beautiful pictures into a picture gallery
Create a blog to keep your visitors up to date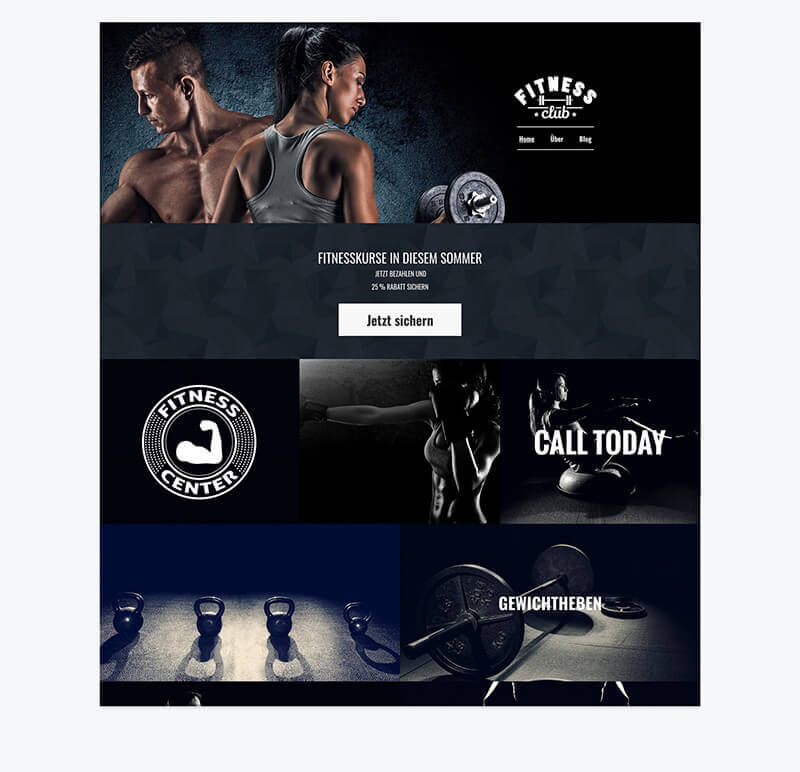 What opportunities does a website for sports and fitness services offer?
Creating your own fitness blog means presenting your own content in a sophisticated and motivating way. Which courses take place with you and at what conditions? When and where do you train? Who is your offer suitable for and how can it be booked? You provide this and other important information on your sports blog to interested parties who can access it regardless of time and location. In addition, certain areas of your website can be protected with a password so that only you and a clearly defined group can access this content.
Furthermore, checkdomain's blog builder offers you various possibilities to communicate with your community, to win new members or followers and to inspire interested parties for your own offer. Without having to learn the technology or the art of website design. But to fair like transparent fees, completely in such a way, as it fits the desired Web appearance.
As a simple web presence, as a comprehensive website with strong photos and snapshots or as a premium website where you can convince your visitors of your competence with videos and recommendations, guides and blog posts. With self-created taster courses on your PC, advice for the right training, discount campaigns for your products or with a training calendar/app that makes time-consuming administrative tasks easier for you.
Wouldn't that be a whole series of excellent reasons to get started and create your own website right away?
We provide design, navigation and technical background. You concentrate on your business and your content.
If that's not a deal! Who still hesitates now, probably fears the temporal and the financial expenditure. But we can take that worry away from you: Because with a checkdomain website builder your sports blog or fitness website is created faster than you can get the accessories for circuit training. Because all the ingredients are ready. And you can use them to your heart's content to design the website to suit your own ideas and the taste of your clients.
All you have to do now is
Check if the preferred domain name is still available
Select a modular variant suitable for your project
Define the perfect design and the number of pages of the new website or blog
Add own contents, texts, pictures, information
Add an imprint and, if necessary, the necessary legal content
Check the result, add the finishing touches and publish your website
Sounds good, but you would like to make the result even more individual? No problem! In addition to the familiar drag-and-drop process, in which you simply drag content to the preferred location, we also offer the developer mode, which allows you to vary the source code flexibly, for example.
30 Days Money Back Guarantee
Creating your own website without previous knowledge has never been so easy. See for yourself how quickly you can create websites with checkdomain's website builder.
Try out different designs and familiarize yourself with the various functions - if you are not satisfied within the first 30 days, you will get your money back.
Create a Fitness Blog
How to create exciting content?
Checkdomain's high-quality design templates appeal to the aesthetic sense of your clients. A clever and user-friendly navigation helps you to find your way around your website easily. The question remains how to create exciting and inspiring content that motivates your visitors to perform the desired action - such as registering for a course, ordering a product or commenting on your latest blog post.
This is of course easier asked than answered, because every sport and every training is different, every target group comes to your website with its own requirements. In general, however, it can be said that it is precisely this target group that you should thoroughly consider before you create your website.
How to find the right content for your target group
Who do you address with your offer? What does the target group hope to gain from this? Don't just think of obvious goals such as fitness or flexibility. Include the context. What are overriding goals? Is it about getting the perfect beach figure, impressing or finally finding a partner? Or should a spiritual side be made to sound? Are professional athletes among your customers who want to optimize themselves further, or do you have a lot to do with people who suffer from certain diseases and are only of limited performance?
Who do you train and what do these people wish for? What connects them? And how can you address, encourage and involve them so that they perceive your offer as unique?
These are not easy questions to answer, certainly. But the more you try to put yourself in your target audience's shoes, the easier it will be for you to choose the content you want to use to create your website. Images in which your target group can be found, texts that are tailor-made for their specific situation; guides, tips and products that offer real added value.
Our most important tip: Stay authentic
If you do not have the confidence to solve this task alone, please contact our support. We help wherever we can, or offer tips on who can help you in creating content.
For the majority of our customers, however, the design and layouts of checkdomain are so inspiring and motivating that the content is usually self-explanatory. Especially in the fitness area, one thing shouldn't be forgotten: More important than perfection in corporate communication are professional competence and authenticity in presentation. So: Take a chance, but stay authentic. Your clients will thank you!
Find the right design for your idea
The perfect design for your website? we have it! Choose from high-quality, responsive design templates, customize the layout and quickly and easily design your professional website.
Other products you might be interested in