It's that easy to create a craft beer website
The construction of an attractive craft beer website is very simple with our craft beer website builder. Discover now our high-quality design templates and countless features with which you can design your site both aesthetically and functionally perfect. No technical knowledge of web design is required.
Choose a template for your website
Publish the most important information about your craft beer
Upload the most beautiful pictures into a picture gallery
Create a blog to share the best moments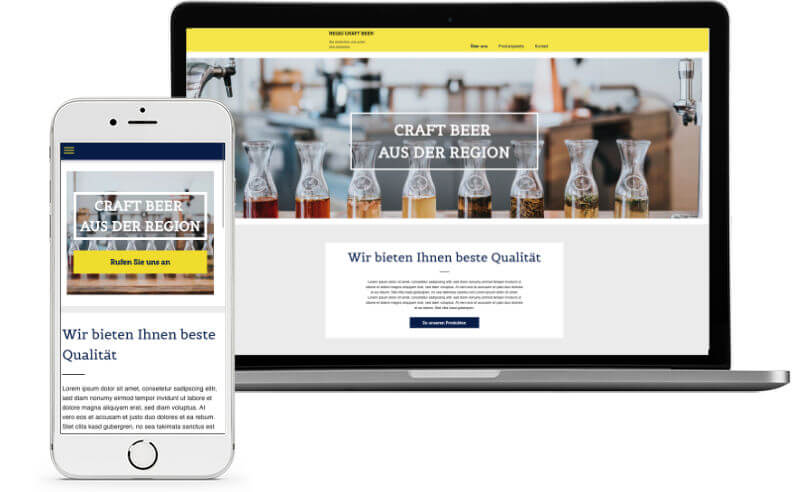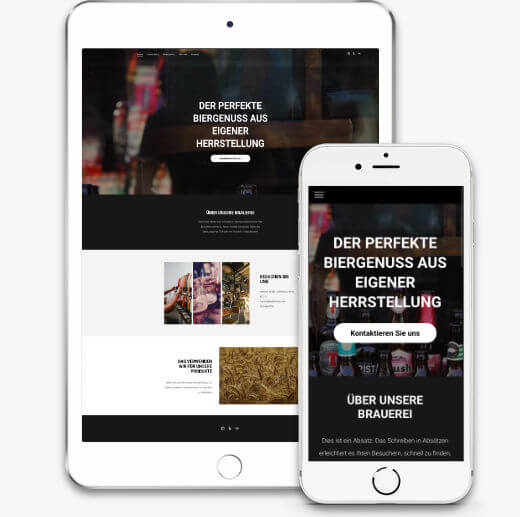 The craft beer website builder: an invaluable advertising tool for beer brewers
They are developed with passion and brewed with love: Craft beers are a real craft product and have nothing in common with a uniform industrial taste. Brewers who want to present themselves successfully on the web with these innovations need their own website. Only with your own craft beer website can you enjoy beer online. Especially for smaller brewers and beer shops, a website is an indispensable marketing tool for more turnover and more customers.
With a tailor-made website, brewers can also concentrate specifically on local markets. A dedicated craft beer website is the key to online success, enabling you to position yourself clearly in the market with your finely brewed and innovative creations and to communicate your strengths in a truly targeted manner. checkdomain's website builder offers everything brewers need to score with beer consumers. It conveys pleasure, creates trust and is an invaluable help in making a name for yourself as a beer expert. But your own beer website can do even more: it is a valuable helper in establishing customer contacts. Those who leave their contact data here - in keeping with data protection regulations - can be provided with targeted information and interesting beer offers: for example, through regular newsletters on current beer trends, new enjoyment trends or interesting beer events. Our own craft beer website makes it as easy and convenient as possible for interested parties from the catering trade and for end customers to contact us.
Creating your own craft beer website
with the website builder in a few steps to your own brewery website
Creating your own website can be really easy. With checkdomain's website builder, this works without any technical knowledge or programming skills. The website is created in a few steps and without a lot of time. During the development of the system, special attention was paid to usability: The system works intuitively and can also be operated by laymen without any problems. If there are any questions, checkdomain offers comprehensive help at any time. The website builder is especially popular with newcomers who have little or no experience with website creation. This way, the attractive marketplace on the Internet can be explored and conquered without great financial burdens. Expensive investments in the web presence are not necessary without having to do without the numerous advantages of an own website.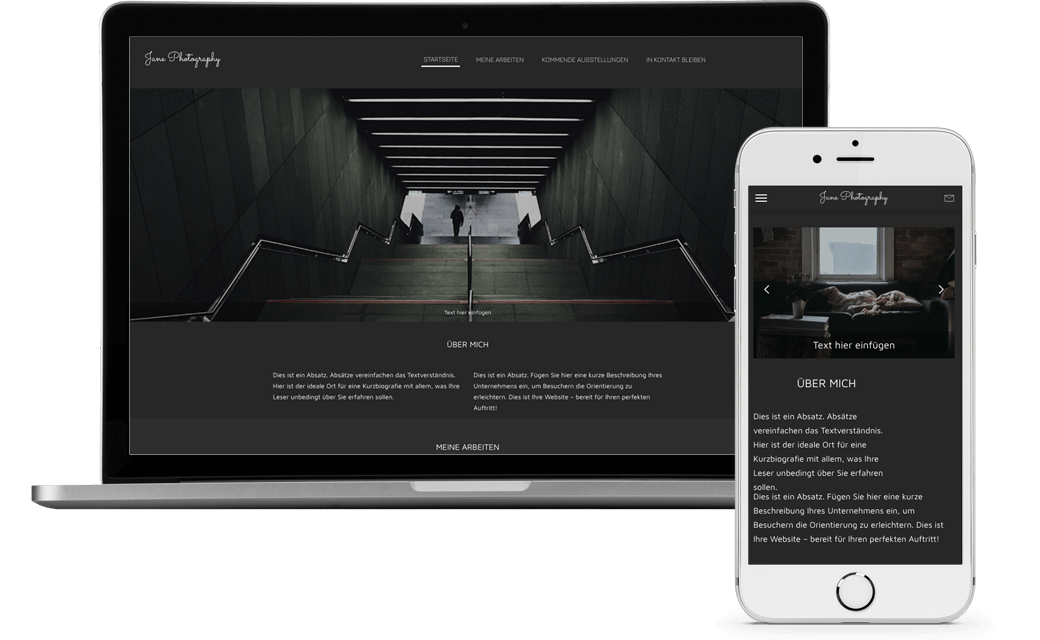 30 Days Money Back Guarantee
Creating your own website without previous knowledge has never been so easy. See for yourself how quickly you can create websites with checkdomain's website builder.
Try out different designs and familiarize yourself with the various functions - if you are not satisfied within the first 30 days, you will get your money back.
Create a craft beer website
Looking for a good name for your craft beer website
The creation of your own craft beer website starts with the selection of a good domain name. Above all, this should convey beer expertise and enjoyment, but also be memorable and unmistakable. A regional reference can be advantageous if you want to position yourself with a region-specific speciality (e.g. the name www.meinort-brauerei.de). If a craft beer trademark already exists, the domain name should be closely related to that product name. A good domain name can have a positive effect on the ranking in Google search results. Please note that there are many free domain names ending in .com or .info. These can certainly serve their purpose, who wants to position himself with a beer "made in Germany", should prefer the ending .de. in Germany, however!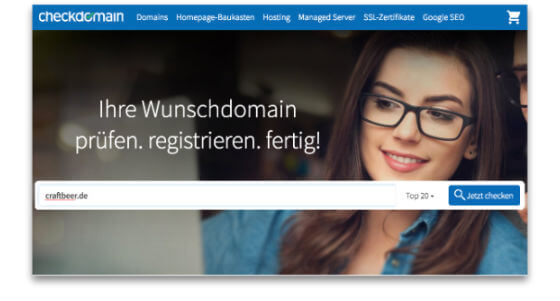 Our tariffs for you
We have something for everyone, whether private homepages, functional company homepages or sales-oriented business websites. With our tariffs you are guaranteed to win
Set-up fee: €0.00
12 months term
30 day money back guarantee
1 Page
Large picture archive with free pictures
Design templates for many industries
Perfect display on all devices
Unlimited storage space
No advertising
1 SSL-Certificate included
recommended by customers 4.7/ 5
Set-up fee: €0.00
12 months term
30 day money back guarantee
15 Pages
Large image archive with free images
Over 100 Premium design templates
Perfect display on all devices
Unlimited storage space
No advertising
1 SSL-Certificate included
Blog included
1 free domain 3
5 E-Mail Mailboxes
5 GB Mail memory
Detailed website statistics
SEO-Optimierungen
Business Apps, Maps, Forms
Set-up fee: €0.00
12 months term
30 day money back guarantee
∞ Pages
Large image archive with free images
Over 100 Premium design templates
Perfect display on all devices
Unlimited storage space
No advertising
1 SSL-Certificate included
Blog included
1 free domain 3
20 E-Mail Mailboxes
20 GB Mail memory
Detailed website statistics
SEO-Optimierungen
Business Apps, Maps, Forms
Multilingual Websites
Device dependent content
1 Prices include 19% VAT (Germany)
2 Minimum term: 12 months, notice period: 30 days
3 You can use the following domain extensions free of charge for the homepage construction kit: de, com, net, org, info, biz, eu, at, ch, li, co.uk, mobi, dk, nl, it
Let us create your professional website for you
You don't have time to create your own website? No problem - With our new website service we create your website for you. Including domain, e-mail addresses and update service. Everything from one source.
Learn more now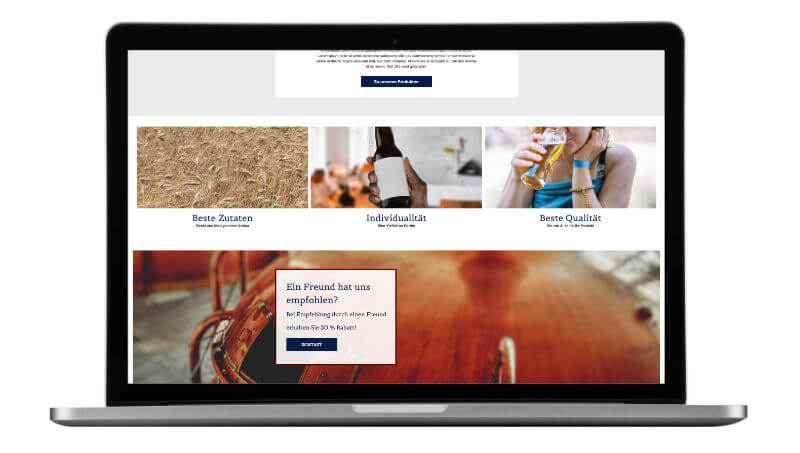 Start registering with checkdomain now and secure your desired domain!
Once you have chosen a good domain name for your craft beer website, you should reserve this desired name for yourself by registering with checkdomain. When registering your domain name, you must be careful not to unintentionally infringe the trademark rights of other providers. As soon as you have clarified this, you should access a catchy domain name as quickly as possible: Interesting domain names are very much in demand and are therefore quickly sold out.
Find the right design for your idea
The perfect design for your website? we have it! Choose from high-quality, responsive design templates, customize the layout and quickly and easily design your professional website.
Choose the design of your craft beer website!
If you want to convey enjoyment and beer expertise, you should express these values on your craft beer website. checkdomain offers you all the necessary features and tools. With the various design templates you can create a really professional and attractive website. All design templates can be complemented with the colors and fonts of your choice to make them even more attractive. The application of the numerous design options is very simple and quickly leads to results that can be seen.
Fill your craft beer website with attractive contents!
After activating your website you can immediately start to fill it with content. If you travel a lot, you can do it on the move. The user-friendly checkdomain app makes your website easy to use on the go. You can also be sure that your website always looks good: on your desktop PC and also on your smartphone or tablet. The modular system works responsive: This means that the mobile version also offers everything you would expect from an attractive and user-friendly website.
Benefit from the power of images and other design possibilities!
Beer is much more than just a drink and works emotionally, so to speak. It conveys pleasure, enjoyment of life and sometimes also a certain attitude to life. Images are indispensable for transporting this. With checkdomain's website builder, these and other attractive design elements can be easily integrated into your website.
Post your content easily on the worldwide web!
As soon as your content is available, you can publish it by simply clicking on the "Publish" button. It is just as easy to publish blog posts with which you can provide your users with valuable additional information on the exciting topic of "beer". With a craft beer blog you get potential customers on board and create a basis for lucrative customer contacts.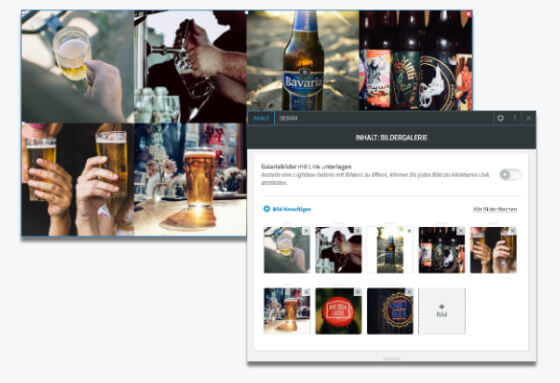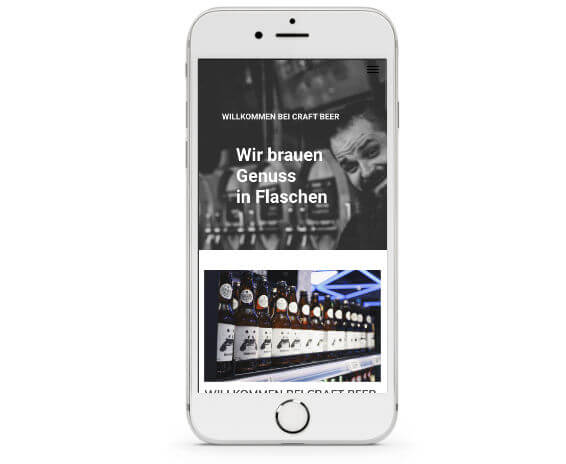 This will make your craft beer website even more attractive!
Your own website is always a valuable basis for innovative brewers. But if you want to be successful with your brand in the long term, you can do even more. Especially exciting blog entries about the topic "beer" are an invaluable help to draw the attention of beer connoisseurs to your internet presence. They are also a valuable basis for recommendations via Facebook, Twitter and other social media.
Website operators, which offer interesting information, score almost automatically with the search results of Google and other search machines. Those who regularly pass on their beer expertise in exciting articles can even earn a top position in special subject areas. You can easily check for yourself how well this works with the meaningful statistics function of checkdomain. Here you can see at a glance what amounts of your website are most popular with users and how many visitors are romping around on your craft beer website. This knowledge is the basis for further optimizing your website and attracting even more visitors to your brand.