How easy it is to create a vacation rentals website
With our vacation rental website builder the construction of an appealing vacation rental website is very simple. Discover now our high-quality design templates and countless features with which you can design your site both aesthetically and functionally perfect. No technical knowledge of web design is required.
Choose a template for your website
Publish the most important data about your vacation rentals
Upload the most beautiful pictures into a picture gallery
Create an occupancy plan for your guests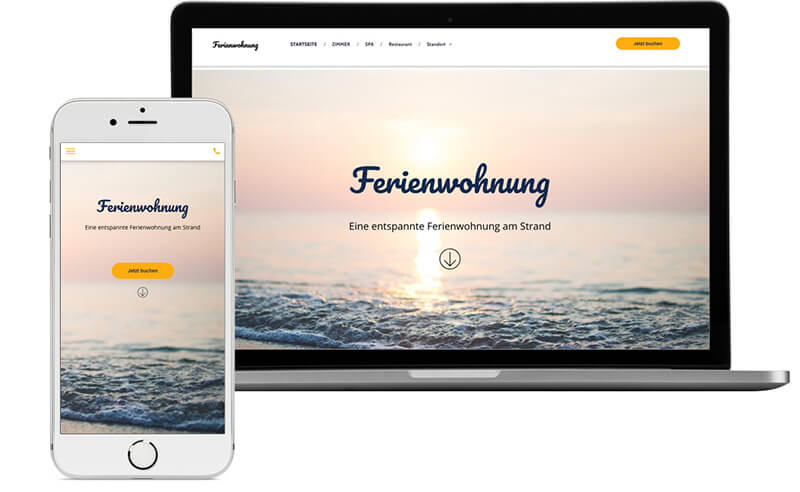 Create vacation rental website? Fast, inexpensive, professional - via website builder
Show a vacation rental from the best side? Professionally set up, vacation rentals websites have what it takes to become a real visitor magnet. Finding and retaining new guests has never been easier: Successful marketing visualizes vacation rentals and apartments attractively, inspires confidence and generates high sales. Why you decide to offer your holiday home(s) on your own website. And now? Do you have to take money in hand to delegate website creation to professionals - or?
Professional vacation rental website
Simply create it yourself
Not necessarily, because you can also build your holiday home website yourself, with technically and design optically convincing results. An attractive appearance that attracts potential guests, motivates them to book - and ensures that they return. A website builder gives you - also as a private landlord - numerous flexible tools at hand. Customizable functions that meet your specific plans because they are designed for the rental of holiday homes.
With tools that give your vacation rental website a face with photos, display addresses on maps and continuously provide current occupancy calendars. Bookings and payments are made online, from instant bank transfer to credit card. In addition, you can tap into other channels such as booking portals as desired. Don't worry, you don't have to implement everything immediately!
A few first core elements are sufficient to start with your vacation rental website builder via drag & drop. You can customize and fine-tune your website later - little by little.
30 Days Money Back Guarantee
Creating your own website without previous knowledge has never been so easy. See for yourself how quickly you can create websites with checkdomain's website builder.
Try out different designs and familiarize yourself with the various functions - if you are not satisfied within the first 30 days, you will get your money back.
Create vacation rental website
Website Builder: With hosting service and own domain
Your vacation rental website makes you independent of booking portals - as a web presence with a worldwide available, catchy and short domain with the keyword vacation rental(s) and location in the name. Establish direct contact with your guests and earn their trust. Already have a domain? Well, if your website builder allows you to continue to use this catchy name - after all, it is part of your personality. So you simply move your old domain and connect it to the website builder. An unlimited hosting service, which does not charge according to the number of visitors and visits, is preferable.
Relaxed booking via smartphone - mobile, responsive
Of course your offer runs on all mobile devices so that your guests can access it without barriers. Instead of annoyingly distorted, the display adapts smoothly to the format. As a visitor you can see all important booking information at a glance. Do low prices play a role? Sure, but the anticipation of the most beautiful weeks of the year is even greater. Planning and booking a holiday should above all be a pleasure - so treat your guests to the fun. With responsive templates that adapt flexibly to display or screen size, rewarded by the Google algorithm as improved search engine ranking. Does your website look good on your smartphone? This is exactly what can be tested with special tools.
Our tariffs for you
We have something for everyone, whether private homepages, functional company homepages or sales-oriented business websites. With our tariffs you are guaranteed to win
Set-up fee: €0.00
12 months term
30 day money back guarantee
1 Page
Large picture archive with free pictures
Design templates for many industries
Perfect display on all devices
Unlimited storage space
No advertising
1 SSL-Certificate included
recommended by customers 4.8/ 5
Set-up fee: €0.00
12 months term
30 day money back guarantee
15 Pages
Large image archive with free images
Over 100 Premium design templates
Perfect display on all devices
Unlimited storage space
No advertising
1 SSL-Certificate included
Blog included
1 free domain 3
5 E-Mail Mailboxes
5 GB Mail memory
Detailed website statistics
SEO-Optimierungen
Business Apps, Maps, Forms
Set-up fee: €0.00
12 months term
30 day money back guarantee
∞ Pages
Large image archive with free images
Over 100 Premium design templates
Perfect display on all devices
Unlimited storage space
No advertising
1 SSL-Certificate included
Blog included
1 free domain 3
20 E-Mail Mailboxes
20 GB Mail memory
Detailed website statistics
SEO-Optimierungen
Business Apps, Maps, Forms
Multilingual Websites
Device dependent content
1 Prices include 19% VAT (Germany)
2 Minimum term: 12 months, notice period: 30 days
3 You can use the following domain extensions free of charge for the homepage construction kit: de, com, net, org, info, biz, eu, at, ch, li, co.uk, mobi, dk, nl, it
Let us create your professional website for you
You don't have time to create your own website? No problem - With our new website service we create your website for you. Including domain, e-mail addresses and update service. Everything from one source.
Learn more now
Vacation Rental Website Builder - Your automatic booking system
A great apartment! But is it still available at the preferred time? An occupancy calendar accelerates the provider comparison: guests of your holiday accommodation immediately select the desired period, the occupancy calendar is questioned and answers the prospective customer immediately.
The apartment is available? Then the guest can make an request directly - or book online immediately, without risk of overbooking. In order to pave the way to your domicile for guests, each website builder includes a booking system with integrated booking calendar. This accepts booking requests, automatically accepts direct bookings via the "Book Now" button and enables many payment methods, from instant bank transfer to credit card. Always to react promptly is your style? First, ask potential guests to make a booking request and, if necessary, subject them to a pre-check.
On the other hand, special tools remind guests of their reservations - fully automatically - because every communication with guests is a time factor. Automated templates send booking confirmations, inform about arrival times or keep service providers and cleaning staff automatically informed about the arrival and departure of your holiday guests. Information that you can also send depending on the event - such as directions shortly before the start of the trip or thank you e-mails ten days after departure.
Find the right design for your idea
The perfect design for your website? we have it! Choose from high-quality, responsive design templates, customize the layout and quickly and easily design your professional website.
Irresistible! Design in the best light
You rarely get a second chance to make a first impression! A good object website provides a quick overview of content and structure. And answer the personal question: What should your guests necessarily see immediately? The eye also buys, which is why excellent pictures are part of it - as a key to sale. Present your holiday home with a vacation rental website builder in the best light by integrating photos and videos via upload. Where are your contact details?
Prominent positioning makes enquiries easy. Just as easy and uncomplicated, a good user interface with mouse control is all that is needed to drag text and image elements to the desired location on your website, to adjust the size or to select color nuances from palettes. You want to start small, then grow? No problem if there is enough storage space. For your information: 3 GB memory is enough for about 3000 images at an image size of one MB, at a size of 150 MB per Full HD video clip you can store over 20 shorter videos.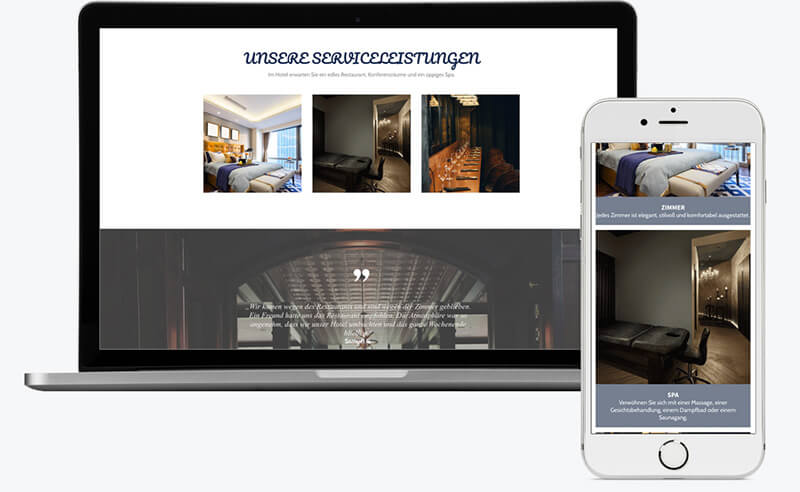 Location, leisure time, experiences: Informing guests
Consumers in 2018 are demanding - and impatient: When you visit your website, you expect certain information and a lot of it. In other words, they want to know everything about their vacation rental in words and pictures: Not only about the equipment, but also leisure activities from ski slope to beach as well as the journey including route planner (Google Maps etc.) for the exact location of the vacation rental. At least as interesting: Did other guests like it? Are the reviews authentic or do you smell the fake? Experienced users feel what's wrong - and click to the competition. After all, leisure and holidays are too precious to take risks when investing time and money. Rule of thumb: The more detailed the information, the greater the chance of trust. Provide incentives that make it easier for users to return to you - through special offers or the publication of news with added value.
Website in change! Using design templates
The heart and basis of successful website builder are the right design templates, because they determine the positions and design of selected areas, such as navigation bar or logo. Sample contents help with structuring and individual adaptation, because they can be exchanged for own contents. A range of proven, ready-to-use design templates is available for customization and extensive implementation of your own wishes. Because your offer lives on - and is constantly changing.
Changes in content, because you have a new phone number, your rooms now air conditioning and pool? With a website builder, you can exchange content quickly by using ready-made building blocks - not least for video and audio. And after publication? Can you change the design yourself again and again - whether coloring, background or complete design concept. Without expensive experts, but by means of editor and 24/7.
Be found: SEO for Google & Co.
Your name isn't Airbnb, Booking.com or Expedia? Even as a smaller or private landlord of holiday properties, your search engine-optimized offer will be found. Booking portals with which you are in fierce competition for the attention of your guests. You do not have to reinvent the SEO wheel (SEO for Search Engine Optimization): Website builder templates and tools help to attract more potential guests even as a web newcomer - by means of SEO-optimized website.
Publishing a page? Then your provider sends your sitemap, a kind of table of contents of your page, to Google & Co. You are found via Google search or Google Maps? The effort to keep your entry up-to-date in terms of illustrations and opening hours pays off in the long term.
Using social media?
Channels from Facebook to Instagram offer opportunities to attract travelers, answer questions and drum up customer reviews. Social media is an integral part of the website builder. All you have to do is head towards Facebook & Co. (or via Facebook Messenger for easier communication). Manage data and content anytime and access content from anywhere to synchronize it with social media channels.
Excellent guest reviews? Do not refrain from showing them on your website. Channel Manager and reservation system let you manage all guest related data from one place. If the calendar and booking tool are integrated on Facebook, visitors and fans can view your booking calendar - and book directly via the Facebook page.
Docking to platforms - from TripAdvisor to Booking.com
Traditional and proven, the registration in web directories of tourism associations for landlords of vacation homes makes further sense. But to reach as many target groups as possible on platforms such as Airbnb, TripAdvisor, Wimdu, Expedia or Booking.com, but also regional portals, you need to extend your radius. Create new channels and advertise your holiday home on selected portals. Once online, the extra work is limited to your duty to keep your calendars up to date, while a Channel Manager keeps an overview in real time: Who are the next guests? Do I have vacancies, do I have to react? Channel Management shows all this, bundled in the cockpit - and without (double) bookings coming into the enclosure. One of your holiday homes is being booked, the other one is still available? The system - with interfaces to portals and platforms - blocks your offer accordingly.
Worth its weight in gold: Guestbook and references
Do you like your offers? That honors you. In addition, enthusiastic evaluations of your guests have their very own potential. Which is why you should not only trust in regular guests, but also attract new customers in the low season - for better capacity utilization. Always ask for a review, which you publish where decisions are made - on the website itself. Your website builder as an instrument collects, bundles and publishes ratings. Or create a public guestbook, which offers your visitors space for greetings and comments. This way you can get in touch with guests in no time, respond directly to reviews and maintain important relationships. The currency from which landlords of holiday properties live? The recommendations of satisfied guests, of course - and therefore worth its weight in gold. Do not refrain from integrating your experience reports and evaluations!
Professional vacation rental website : Now without programming knowledge
Our website builder is perfect for this - whether for first, uncomplicated steps, but also for old hands among you! Everything from a single source, but without the need to set countless functions manually, which is time-consuming. Create your own website - from booking and booking to guest contact. With one click, you'll see real-time updates while your website builder provider takes care of data storage and privacy. A highly professional solution with low maintenance costs. Admittedly - website builders are also free of charge, but, because often sub-domain of the provider side, unfortunately not free of advertising.
Take off now? It is so easy to create a website for holiday homes with our vacation rental website builder. Our tip: Collect inspiration on the pages of your industry. And then? Make your own entrance. With a design that says: That's exactly where I want to go! The vacation can come...